XIIIº Indianapolis International Motor Sweepstakes
500 MILE RACE 1924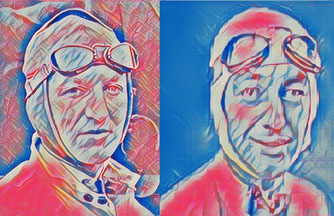 El viernes 30 de mayo de 1924, en el trazado del Indianapolis Motor Speedway (200 laps x 4.02335 km = 804.670 kms).
Time of race: 5:05:23
Pole Position: Jimmy Murphy (Duesenberg)  (5.33.22), Jimmy hubo de conformarse con finalizar en la tercera posición.
Time of race: 5:05:23
Average speed: 98.234 mph
Pole speed: 108.037 mph
Vencedor: Lora Corum y Joe Boyer con su Duesenberg, tras partir desde la vigesimoprimera plaza de la parrilla de salida (Velocidad media: 98,234 mph, a unos 158,1 kilómetros por hora).
Margin of victory: 83.97 segundos
Pódium:
Lora Corum y Joe Boyer con su Duesenberg (5:05:23.21)
Earl Cooper con su Miller (5:06:47.18)
Jimmy Murphy con su Miller (5:08:25.39)
Resultados:
Lora Corum          Duesenberg         5:05:23.21
Earl Cooper         Miller             5:06:47.18
Jimmy Murphy        Miller             5:08:25.39
Harry Hartz         Miller             5:10:44.39
Bennett Hill        Miller             5:11:00.07
Pete DePaolo        Duesenberg         5:18:08.55
Fred Comer          Miller             5:21:06.91
Ira Vail            Miller             5:26:55.62
Antoine Mourre      Miller             5:26:55.62
Bob McDonogh        Miller             5:31:26.73
Jules Ellingboe     Miller             5:31:35.59
Jerry Wonderlich    Miller             5:50:56.82
Cliff Durant        Miller                199  Out of fuel
Bill Hunt           Fronty-Ford T         191  Flagged
Ora Haibe           Mercedes              182  Flagged
Alfred Moss         Fronty-Ford T         177  Flagged
Fred Harder         Fronty-Ford T         177  Flagged
Joe Boyer           Duesenberg            176  Hit SW wall (Houser)
Eddie Hearne        Miller                151  Broken fuel line
Frank Elliott       Miller                149  Broken fuel tank
Tom Milton          Miller                110  Fuel tank leak
Ernie Ansterberg    Duesenberg -  2  Wrecked backstretch