GEORGE CONSTANTINE
George John Constantine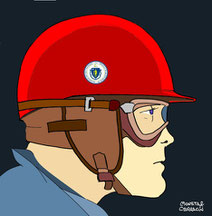 George nació el 22 de febrero de 1918 en Southbridge, Massachusetts (USA).
George fue un piloto aficionado que ganó la carrera de la SCCA de 1956 en el circuito de Watkins Glen con un  Jaguar  Type  D. 
George  sólo estuvo presente en una prueba puntuable de Fórmula 1, el IIº United States Grand Prix que se disputó en la temporada de 1959, en el circuito  de Sebring.
Se inscribió con un Cooper T45 - Climax 4 de Mike Taylor, que portaba el dorsal número 16. Durante  los  entrenamientos  oficiales  se  clasificó  en la decimoquinta plaza de la parrilla de salida entre los diecinueve  pilotos  inscritos en la  prueba. 
El  día  de  la carrera, un soleado 12 de diciembre, se clasificaron siete participantes, entre los que no se encontraba George que se vio obligado a abandonar en el quinto giro por problemas  mecánicos  (junta  de  culata), el  vencedor fue el neozelandés Bruce McLaren con un Cooper T51 - Climax.
Ese mismo año venció en el Nassau Trophy con su Aston Martin DBR2, y en el USSC fue elegido "Driver of the Year".
En 1962 fue quinto, vencedor en su categoría, en las 3 Horas de Daytona.
Georges falleció el 7 de enero de 1968 en New Cork.