KEVIN COGAN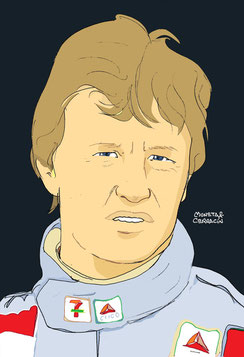 Kevin nació el 31 de marzo de 1956 en Redondo Beach, California (USA). Estuvo
presente en dos Grandes Premios de Fórmula 1 entre 1980 y 1981.
Su primera aparición fue en el XIXth Grand Prix Labatt du Canada, en el circuito de Montreal, el 28 de septiembre de 1980, con un Williams FW07B - Ford Cosworth, en el que realizó el registro mas lento entre los veintiocho pilotos inscritos, lo que no le permitió tomar la salida en la carrera.
Al año siguiente acudió al 6º Toyota Grand Prix of the United Status (Long Beach, el 15 de marzo) con un Tyrrell 010 - Ford Cosworth.
En esta ocasión fue el vigesimoquinto en las pruebas calificatorias, entre los 29 pilotos inscritos, pero ni aun así logró calificarse para disputar la prueba.
Al finalizar la temporada decidió
dedicarse a competir en pruebas de la Indy.
Pero tras doce temporadas, sólo obtuvo un trofeo en Phoenix en 1986, y un magnifico segundo puesto en las 500 millas de Indianápolis de 1986. Kevin a lo largo de su carrera destacó por sus numerosos accidentes. Lo que le llevó a abandonar la competición en 1993.

Kevin con un Tyrrell 010 - Ford Cosworth V8 de la escudería Tyrrell Racing Team intentó calificarse sin exito en el VIIº Grand Prix of Long Beach, el 15 de marzo de 1981 en el trazadourbano de  Long Beach (80 vueltas x 3,25 kms = 261,7 kms).