BOBBY GRIM
Robert Grim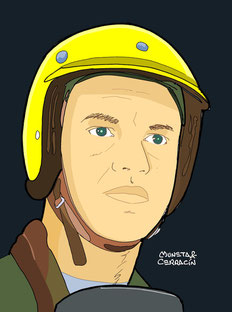 Bobby nació el 4 de septiembre de 1924 en Coal City, Indiana (USA).
Su experiencia en el mundial de Fórmula 1 se limitó a estar presente en dos ediciones de las 500 Millas de Indianápolis (1959 y 1960), debutando en las XLIIIrd Indianápolis International Motor Sweepstakes en 1959, con un
Christensen - Offenhauser, que
portaba el dorsal número 48, que le
permitió finalizar vigesimosexto,
tras haber partido de la quinta
posición de la parrilla de salida, lo
que le llevó a ser "Rookie of the year".
Al año siguiente repitió la experiencia con un Meskowski
Offenhauser terminando en decimosexta posición.
En 1961, con un Thompson Industries Watson - Offenhauser Piston, finalizó trigesimosegundo en las 500 Millas de Indianápolis, tras haber partido vigesimocuarto.
En 1962 finalizó decimonoveno con un Gilbert Morcroft Trevis - Offenhauser.
En 1963 se clasificó vigesimoquinto.
En 1964, obtuvo su mejor resultado, un décimo puesto, con un
Konstant Hot & Vatis Enterprises KK500J - Offenhauser.
En 1966 fue el primero en utilizar metanol en un monoplaza para
calificarse en las 500 Millas de Indianápolis, logrando con un
Watson/Offy un promedio de 158.367 mph.
En 1967 fue decimotercero con un Racing Associates Gerhardt- Offenhauser.
En 1968 volvió a repetir su mejor resultado en Indianápolis,
finalizando décimo, con un Gene White Company Mongoose -Offenhauser  Flagged.
Bobby falleció el 14 de junio de 1995 en Indianápolis, víctima de uná
penosa enfermedad a los setenta años de edad.