FRED AGABASHIAN
Freddie Agabashian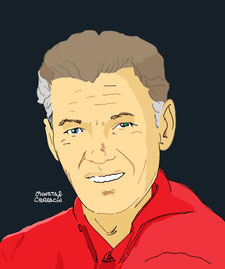 Frederick nació el 21 de Agosto de 1913 en Modesto, California (USA).
Fred disputó su primera carrera de autos midget siendo aun un adoslescente.
Su primer campeonato lodisputó en 1937, el Northern California Racing Association,compitiendo con pilotos de la categoría de Duane Carter, Lynn Deister, y Paul Swedberg.
Fred obtuvo el campeonato BCRA de 1946 con Jack London. 
Fred venció en los campeonatos de 1947 y 1948 del BCRA con George Bignotti.
Compitió en el mundial de Fórmula 1 entre los años 1950 y 1957 en ocho Grandes Premios.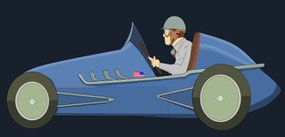 Su debut se produjo en las XXXIVth Indianapolis International Motor Sweepstakes, en el circuito de Indianápolis, un lluvioso 30 de mayo de 1950. Su mejor clasificación en carrera fue un cuarto puesto (XXXVII 500 Mile Race of 1953).
Obtuvo una pole position (XXXVI 500 Mile Race of 1952). Partió en tres ocasiones en la primera línea de la parrilla.
Su mejor clasificación en un campeonato fue decimoctavo en 1953, obtuvo 1,5 puntos. Fred compitió 931 vueltas, unos 3.746 kilómetros. Lideró un Gran Premio, durante una vuelta, unos cuatro kilómetros.
Frederick falleció el 13 de octubre de 1989 en el Alamo, California.
Trayectoría:
1931 - Begins racing career with cinder track racing 
1947 - AAA, 1 race, 23rd overall, 200 pts 
1948 - AAA, 1 race, 0 pts 
1949 - AAA, 2 races, 1 win (Sacramento), 24th overall, 200 pts 
1950 - AAA, 9 races, 14th overall, 532.5 pts 
1951 - AAA, 6 races, 25th overall, 278.2 pts 
1952 - AAA, 2 races, 1 pole, 33rd overall, 80 pts 
1953 - AAA, 1 race, 19th overall, 315 pts 
1954 - AAA, 2 races, 14th overall, 460 pts 
1955 - AAA, 1 race, 0 pts 
1956 - USAC, 1 race, 31st overall, 50 pts 
1957 - USAC, 2 races, 0 pts