JIM HURTUBISE
James Hurtubise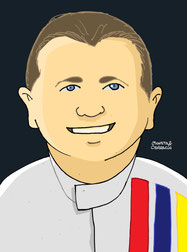 Jim nació el 5 de diciembre de 1932 en North Tonawanda, New Cork (USA).
En 1959 en la Indycars, con un
Kuzma - Offenhauser, obtuvo una victoria en Sacramento.
Su debut en el Mundial de Fórmula 1 se produjo en las
XLIVth Indianapolis International Motor Sweepstakes en 1960.
James se inscribió con un Christensen - Offenhauser, que portaba el dorsal número 56, y tras calificarse en vigesimotercera posición, finalizó decimoctavo, lo que le permitió ser "Rookie of the Year". Ese mismo año, con un Kuzma - Offenhauser, venció en Langhorne.
En 1961 y 1962, en la Indycar, con un Kuzma - Offenhauser,
venció en Springfield.
En 1963, en las 12 Horas de Sebring, formando equipo con el legendario AJ Foyt, y a los mandos de un Nickey Chevrolet Corvette, abandonaron en la 84ª vuelta.
En 1966 acudió a las 24 horas de Le Mans, y con Willy Mairesse, y a los mandos de un Arciero Mk 2 – Chevrolet, obtuvo un frustrante
resultado.
En 1972 finalizó decimosegundo en el Phoenix International
Raceway con un Coyote 71 Foyt.
Jim falleció el 6 de enero de 1989 en Port Arthur, a los 56 años de
edad, víctima de una crisis cardiaca.